Home


Looking for a safety speaker? Go To:
Safety-Speaker.com
E-Newsletter
Free Monthly Newsletter
Safety & Interesting Topics with Real Life Stories

Looking For A Safety Gift For Your Employees?
Another hat or jacket won't make your employees safer...
Give a Gift That Actually Has A Safety Message!
Hats and jackets go a long way to boost morale and facilitate teams but it won't help your employees remember "Safety Is A Twenty-Four Hour Concern". Martin Lesperance has attended to thousands of seriously injured people while working as a firefighter and paramedic. He hates seeing people injured and wants people to read his books and get thinking about safety while at work, home or play.
Martin's stories of actual emergency calls he has attended will help your employees remember the message! Written in an entertaining, easy to read manner, these stories keep your employees or customers turning the page.
In order to get them into the employee's hands,
he offers huge volume discounts.
The regular price is $9.95 US, $12.95 CDN, for a single copy but the price can be as low as $2.00 US for very large orders.
Add A Customized Message For Your Employees or Customers.
Large orders give you an entire page to deliver a message from the safety committee or management. Smaller orders allow you to print custom labels and add your message to the first page. Safety Health Publishing keeps your employees thinking about safety, these books can help save lives and reduce injuries.
Safety Books Make A Great Premium To Attract Customers!
Call us today for a price quote.
1-888-278-8964
or (403) 225-2011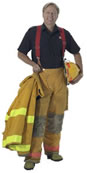 Martin Lesperance
Download Free
Adobe Acrobat Reader